Life as an adult is strange. Time ticks away with little time to savor, what I am told are, the best years of my life. The stress of surviving has left me in a fog that I rarely escape. I find myself looking at photographs from that very day and wondering why I don't take the moments to enjoy things more. I sometimes see photographs of my nearly three-year-old son and seriously think about waking him to play I need to be more in the moment. I need to be less in my head. kids pick up on that stuff.

2015 has been a wild ride and I am not always confident that I will survive it. As I compile my annual "Best Of" mix I cannot help but notice that many of the songs that have resonated are deeply connected to my struggles. This shouldn't be information that is greeted with surprise -- music is something that we use to lick wounds just as much as to celrbate, maybe more -- but hearing these songs back to back has left me wondering exactly where my mental state currently resides. Some are obvious, such as Frank Turner's "The Next Storm", and hit me like a freight train on my first listen (But I don't wanna spend the whole of my life indoors/Lay low, I'm waiting on the next storm). Other's operated like a Trojan Horse and took a hundred listens before I understood its connection to my state of mind. Calexico's "Falling from the Sky" has become a real symbol for the year (Where do you fall when you have nowhere to go?/Where do you go where you have no one to see?/What do you see when you have nothing to feel?/What do you feel when you're all alone?) and some of the painful turns that things have taken. The songs illustrate a strange mix of "woe is me" and "I think I can" that, upon reflection, leaves my head spinning. Ben Folds tells me that I am "Capable of Anything" meanwhile Jr. Jr.'s infectious "Gone" leaves me with hope that falls through my fingers (I can't be everything you want me to be/Finally, I can see the light through the leaves/But it's all gone). Songs about mothers fill the tracklist with dealings of abandonment (Sufjan Stevens' "Should Have Known Better"), fragility and decay (Daughter's "Doing the Right Thing") and what could have beens (Lewis & Leigh's "Only Fifteen"). Let's finish the year of music off with a dash of spiritual questioning from the likes of Jason Isbell's "24 Frames" (You thought God was an architect, now you know/He's something like a pipe bomb ready to blow) and Cloud Cult's "No Hell" (Mama said the stars are the universe's eyes/I can feel them watching over me most of the time).

I suppose that really sums up life: Survival, Family and Faith. I will enter 2016 feeling confident on my stance on faith but the rest is a bit murky.
I stumbled upon this livejouranl for the first time in what appears to be 4.5 years. After reading a handful of messages I wonder how I got to my current state. I mean that both literally and figuratively. I always shared too much with this journal. In hindsight I recognize that I am a very open individual but I like to pretend otherwise. I suppose the early days of the internet helped one feel very anonymous. I knew that a few of my friends read this journal regularly but other than that it seemed pretty much like writing a letter and leaving it under a rock. Flash forward all these years and I see that my words will live on eternally. Anyone searching for my name will stumble across this "journal" and will learn insights into my twisted mind. The thought that my kids could read about me feeling "horny" should convince me to shut this thing down...but I can't pull the plug.
I have had a little boy named Henry since I last posted. I quit my job to support my wife with a startup and I find myself in the state of Arkansas to try and make this thing happen. I have had the amazing opportunity to play the role of Mr. Mom for nearly two years. I adore my children and will forever cherish this time regardless of what happens with the business.
I spent the day at the Office today. Charlotte drew a large sign for me that says I Love Dad and has a drawing of me as a horse with 6 legs. Two of the legs are then X'd out. It gives the office days some extra charm.
Henry wil be up in 5 hours so I suppose I should get to bed.
I cannot believe I remembered the password to this thing.
Envelopes are addressed. Postage has been ordered. Pens will arrive in 9 days. I have written letter after letter after letter all the while neglecting my family and friends. The kids go hungry. The wife goes without cuddling. This project is, for all intents and purposes, my life. Nothing shall stop me in my attempt to cover the house is me!

Oh, who am I kidding. The kids eat and the wife gets her attention. I write my letters on Sunday mornings while at work and get through 8 to 10 each time I sit down and really focus on it. Newest additions to my list include the creators of The Misadventures of Flapjack & The Grim Adventures of Billy and Mandy as well as an attempt at Paul Reubens (Pee-wee) and Mr. T (Mr. T). I haven't put any time into updating the Tumblr account but hope to get that straightened out before the mailings go out.

I have been discussing a couple small productions with Bill and hope to sit down and map them out over the summer. I also want to get a couple Vlogs up and running. Katie and I once again beginning to talk about a book we are going to work on together. Every now and then I feel the gears in my head beginning to turn again. The rust and weeds are still impeding movement but I am hoping to get all of the smog from my noggin' and really get those gears turning.
I have recently started to try and get my life back on track. It isn't that I am unhappy with where I am or with my wife and kids. I am just unhappy with the fact that I never do anything creative. To be honest, work takes a lot out of me. 6 days a week is a huge undertaking and it isn't as if work stays at work a lot of the time. By the time I leave work and get my ass kicked by stop and go traffic I tend to be pretty run down. We eat dinner and sit and stare at tv. Maybe a videogame is played with Jonathan or a little time spent on the computer but it is not the way I want to live. We have, as a family decided to exercise as well as eat better. That explains why I am eating a sandwich whose bread tastes a bit like dirt but doesn't deter me because I know that if it tastes like dirt it must be good for you. My hope is that if I eat better and find the time to exercise I will have more energy to get that spark going in my brain again. Things in motion stay in motion, afterall.

Last week I started working on a tumblr page that will work as a hub for my video blogs, old and new, as well as the images for the Wall of Jon project. I am excited by the prospect of updating it with drawings by my favorite illustrators and celebrities. This could either be a huge success or another occasion for me to fall on my face (I only got 1 reply to my Christmas mailing two years ago out of 25 sent out WITH Self Addressed Stamped Envelopes). The impending public humiliation aside, I am pretty excited about this project and what it may bring.

The pens have been ordered through the same company that made my mugs. I decided to include the URL of the tumblr page on them in case any of these holier of holy artists decide they are interested enough to take a peek and see what the true story is with me. Pens are set to be delivered on June 29th and I will hopefully have everything else ready to go for a quick turnaround. What better way to celebrate the birth of my child than by sending out requests for drawings of me? It truly is a great way for me, as a man, to celebrate my virility.

I hope to start shooting some Vlogs again and have a couple ideas rumbling about.

This summer Jon Ganahl makes creativity his bitch!
My last post regarding this project was over a month ago and to be honest, I don't have too much new information. I now have over 80 celebrity/artist addresses to whom I would like to participate. I have written 30 letters of adoration with a request of a drawing. Envelopes with consist of:
1 Letter of Adoration
1 Self Addressed Stamped Envelope
1 4x6 Photograph of Jon (in three different poses/phases)
1 Pen with Jon on it
2 5"x8" index cards (in case a mistake is made)
Katie helped me fill out some of the envelopes last night and I might try to get the pen sorted out this week. I have decided that with the near death of my livejournal I might try to rise from the ashes like the phoenix and start a tumblr account. I want to have a web presence with this project because I think it will be damn cool!
Things are beginning to happen. Keep your eyes peeled.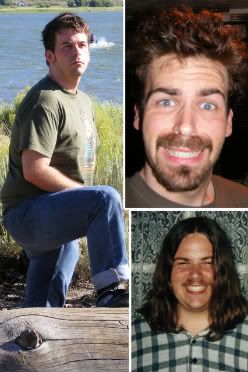 Current Music:

the spanish director of Dante Gebel Live
Life can suck. There is no denying it. Even the biggest optimist in the world has to admit that life, at times, is unbearable. Wake up, get the kids to school, go to work, sit in traffic, work, come home, sit in traffic, do the kids' homework, stare at the bright talking box on the wall, sleep, rinse, repeat. By giving yourself something to work toward the monotony of life can be broken. I have decided to work on a new project; rather, I have decided to alter an ongoing project.

Do you remember when I begged and pleaded for artwork inspired by me? I asked for drawings, paintings, starburst sculptures, wood engravings, tattoos or any other images of me that I could use for my own personal shrine. I have two walls in the kitchen that are being filled with these images. At the recent Anaheim Comic Con I was able to get a drawing done of me by an old Simpson's animator named Phil Ortiz. While this Simpsonized Jon wasn't drawn by Matt Groening, Phil Ortiz was (according to his boothmate) instrumental in designing 150 of the residents of Springfield. This image is truly a highpoint in my Wall of Jon project. While the rest of the images (sans the Angus Oblong penned Christmas Card of 2007) have been drawn out of love by family and friends, this "celeb" drawing got me to wondering how responsive artists would be to my request. I have spent a few nights combing the web looking for address and contact information for some of my favorite illustrators and have been able to procure such information for the likes of Mike Judge (King of the Hill), Sergio Argones (Mad Magazine), Jim Davis (Garfield) and even Maurice Sendak (Little Bear, Where the Wild Things Are) among many others.

My intention has been to send each of these artists a letter professing my love and admiration for their work. I will then explain my lack of ability and the bountiful feeling of envy that I feel. I will close the letter with some mild groveling and a "best wishes". I will provide a few images of me to work from and a sheet of paper and a self addressed stamped envelope to make things as easy as possible for these very busy people.

As my excitement grew and grew over the week Katie sobered me up and suggested that I should not rely on kindness and the appreciation for my love and should instead rely on guilt. My wife is a tactical dynamo! I was reminded of the mug that I made 3 years ago -- the mug that ended up putting me in contact with Angus Oblong and has brought me both pain and joy. Well, I don't have the same disposable income as I did back in 2007. I have decided to go with "I'm a Close Personal Friend of Jon" pens this time around. (If you would like a pen, you can participate in the project as well :))

I am going to try to blog as the project goes on and let it be known who gets letters and who responds. If anyone has any illustrators or artists that they love and think I should contact, please let me know your thoughts. I welcome suggestions.
It has been so long since my last message. So much to report but none of it would be very exciting to people that aren't me.

I try to write this message every year. I sum up the previous year and look toward the next. This year is a hard one to sum up. The obvious points of interest are: Baby. Marriage. Job.

Baby.
When this year began I, in no uncertain terms, thought I would not have a baby in 2009. We spent the whole pregnancy expecting the worst but somehow prevailing. I give 98% of that credit to Katie and will accept 2% of the credit (and any gifts that you feel I deserve) for all my hard work and support. Up to the very end when Katie went into labor and the heartbeat of the baby (and her) dropped to nil, I always expected the worst. Sometimes when baby is screaming won't let us cuddle or even talk, I have to make sure to remember that this is what we worked so hard to achieve. This is what we gave up so much to have and hold and to create. Of course, sleep helps one think logically so it is often a mute point.
Baby is awesome, though. The highlights of my year have been sparked by her. The times she does something new, the times she sees some little bit of the world for the first time, are incredible moments. When I come home from work and she won't stop starring at me I can't help but feel a sense of love that I haven't felt before. I mean, she sometimes stares and screams but it is still something special. Katie and the kids went to Vegas last week for 3 days. When I came home from work after their return Charlotte gave me a giant kiss and just wanted me to hold her. Those are the moments that I cherish.

Marriage.
We got married in May. The wedding party was a total of 7 people or so. TINY. It took place in a park and a cute little African American family had a picnic and watched us get married. The mother cried. It was AWESOME. Married life has been pretty much the same as non-married life. I never felt getting married was an important thing. I think it is funny how important it is to people. As if a piece of paper some how makes people more committed. Between work and kids we don't get a lot of alone time but we do what we can. I couldn't be happier with whom I am spending my life with.

Job.
Work has been crazy. The timing for Dante Gebel's arrival at the cathedral was incredible. It gave us time to move out just before baby (a week before, in fact) and start our own family on our own. I have been working 6 days a week for the past 8 months which has been tough. Some of the days stretch into 10 or 12 or even 14 hours depending on deadlines, but in this economy you have to be pleased to have work at all. I have been editing a spanish program called "Dante Gebel Live" which I think is hilarious considering I don't speak spanish. Life is a very strange ride.


Looking Forward.

With regard to my physique the past 18 months haven't been kind to me. And the past year has been brutal. All the stress of getting ready for baby and coping with the pregnancy from hell (but damn that Katie is a trooper) caused a lot of binge eating and left little desire for exercise. My goal is to take better care of myself. Start working out again. Start eating right again. Ultimately, I need to learn to juggle being a husband & father with being a good employee and a healthy individual. We'll see how many of those balls I can keep up in the air at once.

Wish me luck.
Happy new year!
We tried and tried and tried but never found the time to take our Christmas Card photo. So consider this a Christmas card of sorts. Don't be shocked to receive one in the mail in mid-January. Just pretend Christmas was running behind.
For Halloween we dressed Charlotte up as a Sock Monkey. Not pictured, Jon as Sock Monkey: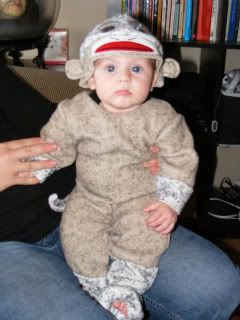 Charlotte has the ability to go from happy to mad in a matter of nano seconds. When I originally hit the button on my camera she was smiling. By the time the picture was taken, she was FURIOUS.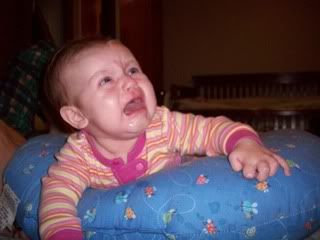 In November we took a trip to Sacramento to visit my Grandparents. Along the way we had to stop off at Pea Soup Andersens for this wonderfullly absurd photo: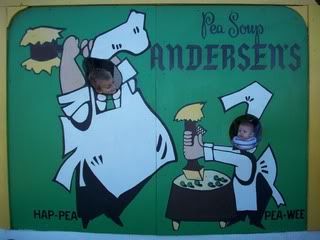 On Thanksgiving we played a game of hot potato with baby. My father lost: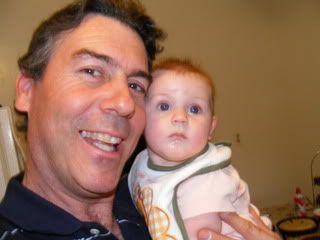 MERRYCHRISTMAS!!!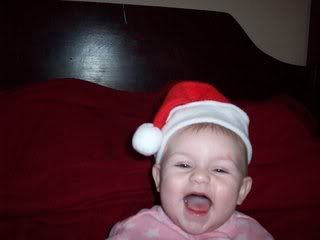 As a child it was clear as day. The new school year meant waking up early, taking showers, doing homework, socializing and a definite decline in video game time. As a college student it meant waking up whenever, doing what I deemed necessary and only occasionally did it require enough effort that it become an irritant. As a parent it meets somewhere in the middle:

Pro: Wear out the Kids.
I swear to god I never thought I would love physical education. Yet, here I am and I adore P.E.! Throw this ball at each other! Jump rump! Run a mile! WHY?!? Now I love the days when the kids have to run. It means they will be that much more tired when they get home. Hallelujah. Nothing quite tells you that the gym teacher did their job quite like coming home and seeing your child stare at the tv like a zombie.

Con: Homework.
With a 3rd grader in the house the homework responsibility is pretty much a 50/50 split. Yes, the student must do the work but the parent must ride them for hours to make sure it gets done. "My hands hurt", "I'm hungry", "I have to poop". You may think it sounds harsh but wait until you have one this age. The excuses above at least make sense but there are plenty that just leaves one in a daze. "I have a headache because the sun is bright when I stare at the grass sometimes, maybe". What?

Pro: Bedtime.
When you tell a child "you need to go to bed" and they ask "why?" it feels WONDERFUL to have an excuse like "Because you need to wake up for school". In the world of kiddom it is the one excuses that seems to work regardless of question.

Q: "Why do I have to eat vegetables?"
A: "Because you need to wake up for school and vegetables help your brain"

Q: "Why can't I jump off the couch onto the rocking chair?"
A: "Because you need to wake up for school and you don't want to wake up in the hospital."

Q: "Why is the sky blue?"
A: "Because you need to wake up for school".

Con: Monday Morning.
Getting a child ready for school in the morning is one of the most difficult things to do. If it is a Monday you might as well forget about it. Weekends ruin children; they are reminded of the freedom they lose during the week. I think weekends should be abolished all together and we should make the summer 2 weeks long.

Pro: Mommy/Daddy Time.
And god created woman. And it was good. Then Mom and Dad created child and they got no time together. With school in session and a bedtime in place Mommy and Daddy get to spend some time together without the kids. Time for R-rated movies and Spin the Bottle!

Con: School starts when?
The later Mommy and Daddy stay up together, the harder it becomes to keep their eyelids open without the aid of toothpicks. The next thing you know daddy is falling asleep at work and getting yelled at by Mr. Jerkface.

So let us celebrate the new school year while we lament the end of summer...